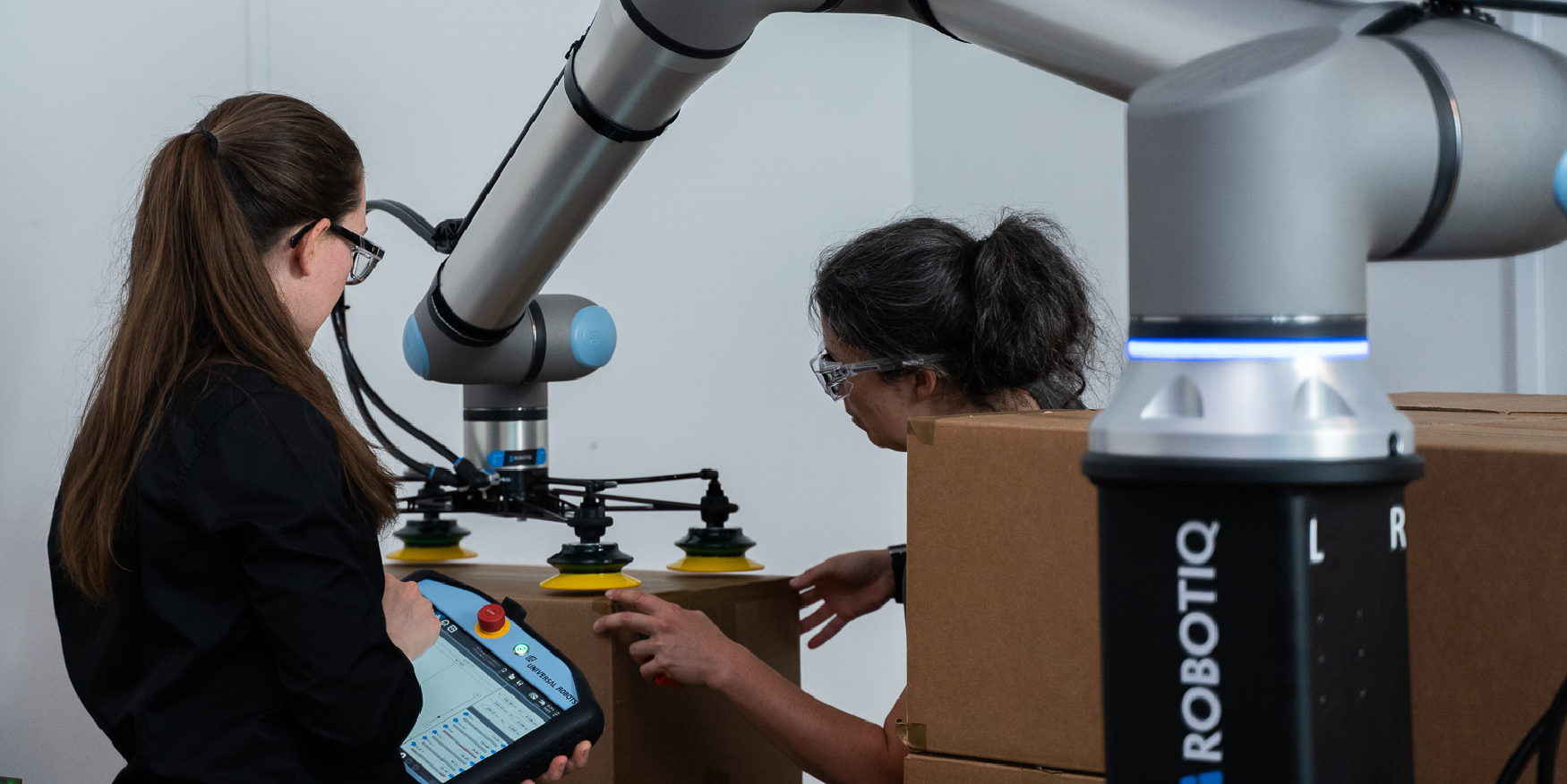 Robotiq has released their third model of innovative cobot palletizing solutions that makes palletizing accessible for heavier loads and moderate pallet heights. The PE20 expands the automation options for a wide range of industries that were previously limited to manual labor or the expensive, large, and complex conventional industrial robots. The Robotiq PE20 Palletizer is designed for higher capacity, and features an increased payload of 18kg/40lbs with double digit picks per minute.
Small Footprint Palletizing Solution
Featuring a compact footprint, the PE20 is designed with safety in mind, built on best practices, and extensively tested to ensure reliability. By fitting into your existing floorplan, there is no need to reorganize. More industries than ever can take advantage of standardized palletizing solutions by Robotiq. The PE20 showcases a lifting capacity of up to 18 kg (40 lb), a stacking height up to 2150 mm (84 in), and cycling time up to 13 picks/minute.

Scale Future Operations
ROI
Earn an ROI faster. Each organization has their own criteria for automation investment and may look into automation to stabilize factors like workforce considerations, product throughput, efficiency, or to increase productivity. Whatever your goal, Robotiq offers palletizing solutions that provide long-term cost savings and production efficiency. Realize optimized, synchronized motion control for unparalleled cycle times, all while allowing your skilled workforce to delve into higher value tasks.
Options for Today and Tomorrow
Choosing the right solution is based on your daily palletization volume, production line capacity, case weights, pallet heights, and available space. Robotiq provides a range of palletizing solutions, ensuring there's an option that meets your requirements. The support provided by Robotiq and its partners are used to train end-users so they are fully autonomous and comfortable working with and around the palletizing solution.
User Friendly Visual "Programming" in 3 Steps
It only takes three easy steps for all ISO-certified pallet sizes, allowing you to adjust to changing production schedules and keeping your production line on time. Changeovers are easy, and there is zero programming experience needed!


Step 1: Enter Your Specifications
Enter your case dimensions, weight and label orientation. The PE20 can handle a payload up to 18 kg.
Step 2: Pallet Dimension
Select your pallet depth and width. The PE20 Palletizing solution can handle all the ISO standards.
Step 3: Pallet Configuration
Create your pallet layout to automatically generate and optimize trajectories and robot movements.