Mobile Industrial Robots
Increase efficiency and safety in your operations by implementing user-friendly, flexible. and safe autonomous mobile robots. MiR is a leading manufacturer of collaborative mobile robots and dedicated to developing user-friendly, flexible, and safe robots to help companies increase the efficiency of their operations. MiR autonomous robots are a new generation of advanced mobile robots which give nearly any business of any size a rapid return on investment, often with a payback period of less than a year. AMR's (autonomous mobile robot) are cost-effective, safe, and flexible to deploy. They are making automation easier than ever to help improve competitiveness and employee safety.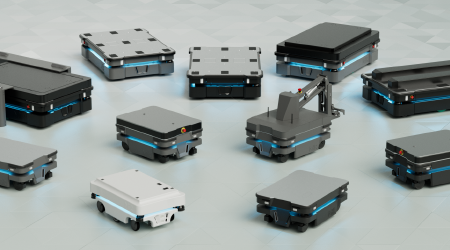 MiR Top Modules
MiR top modules can be can be mounted to the top of the AMRs to create a complete solution.
Mobile Industrial Robots
Offered in 4 different robots, MiR's lineup of mobile robots is stacked with solutions to a wide variety of applications.