BIMBA
Available in Indiana, Connecticut, Kentucky, Maine, Massachusetts, Michigan, New Hampshire, New Jersey, E. New York, Ohio, Rhode Island, and Vermont.

Industrial Leaders in Motion Control Solutions
Bimba, a part of Norgren, is a forward-thinking innovator in pneumatic and electric motion solutions that are easy to use, reliable and ready for all engineering solutions. Bimba offers an extensive line of pneumatic cylinders, rotary actuators, linearthrusters, rodless cylinders, NFPA, flow controls, position cylinders, valves, switches and air preparation equipment.
Breakthrough Engineering is at the heart of Bimba's offer. The challenges and problems our customers face grow ever more complex. They demand fresh thinking and new approaches to successfully tackle fundamental issues such as climate change, population growth and using technology to improve the quality of our lives.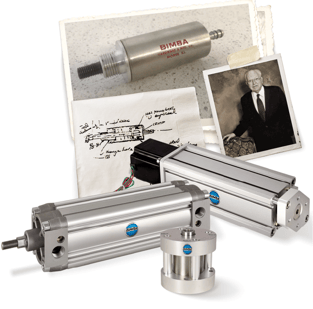 Expertise
Bimba offers motion control solutions for a wide variety of applications.
Bimba Products
Bimba's line of pneumatic and electric motion solutions.