ROBOTIQ
Available in Indiana, Michigan, W. New York, Ohio, Pennsylvania, West Virginia, and Wisconsin.

Elevate Your Workforce with Easy-to-Use Cobot Solutions
Robotiq frees human hands from repetitive tasks with their cobot grippers, sensors and cameras, and turnkey solutions to common manufacturing applications like palletizing, screwdriving, finishing, and machine tending. When paired with Universal Robots collaborative robots, Robotiq's plug-and-play products are designed to solve common applications and relieve human workers of repetitive, dangerous, and low-value tasks.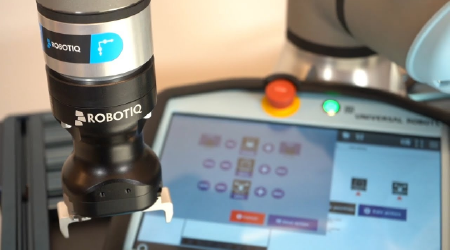 Robotiq Solutions
Robotiq creates fully featured solutions utilizing Universal Robots to start your production faster.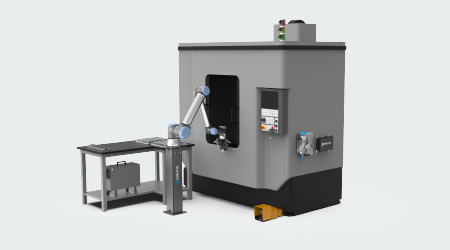 Machine Tending Solution
The Machine Tending Solution keeps chips flying in your CNC processes. This solution ensures constant production while removing complexity, unlike traditional automated machine tending. Deployable in just hours, Robotiq's Machine Tending Solution earns a quick ROI for even high-mix, low-volume applications.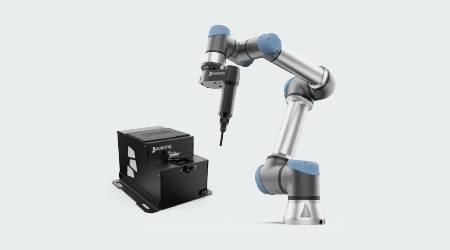 Screwdriving Solution
Produce multiple products per production line with Robotiq's Screwdriving solution. This solution elevates your workforce with a quick two week deployment time, five minute production changeover time, and consistent screwdriving.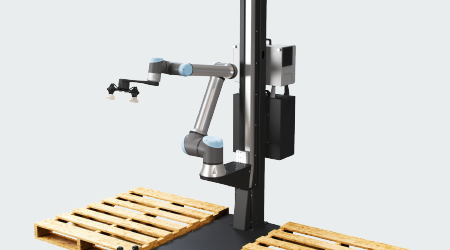 Robotiq Products
Along with their list of application solutions, Robotiq offers much more to add functionality to cobots.